Wondering what the difference is between a performance ride and a rhythm ride? Here's what sets them apart (and why both are a great addition to your fitness regimen).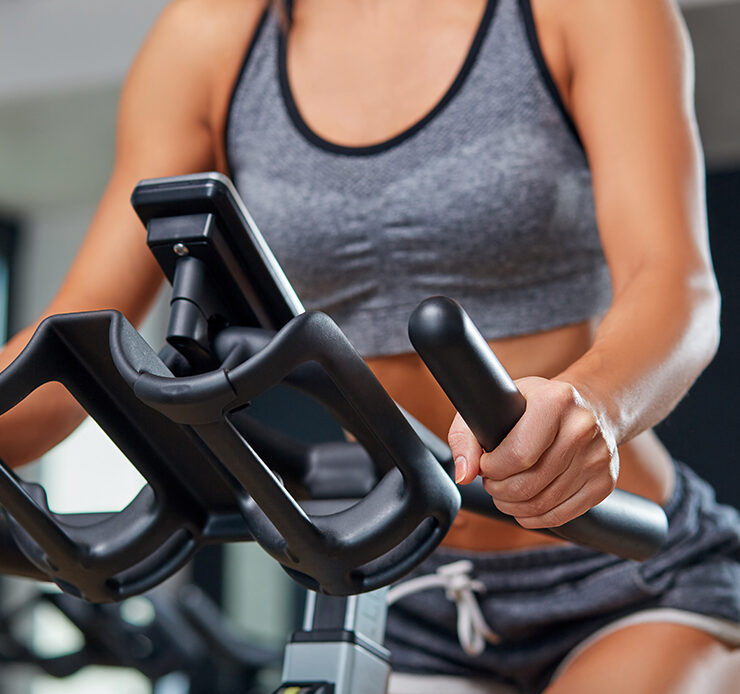 Spin – or indoor cycling – is a form of exercise that focuses on endurance, strength, intervals and recovery. You ride on a stationary bike and follow the cues from your instructor. These will be to add or take off weight from the flywheel on your bike to perform different exercises throughout your class. The two main types of indoor cycling are a performance ride and rhythm ride, both of which offer different experiences to the practitioner. Here's what sets them apart.
What is a performance ride?
A performance ride offers a more traditional structure. It is a high-intensity spin that focuses on riding to a specific range of revolutions-per-minute (RPM) cadences in jogs, sprints, and climbs.

Typically the workout is based on functional threshold power, or FTP, which indicates how much power you're producing from your legs. But this doesn't necessarily need to be measured throughout a class. If you have a higher amount of resistance on the bike, your body produces more power to move the pedals! Less resistance means faster legs, which likely means you're sprinting on the bike or finding a quick jog. More resistance means slower legs, which likely means you're climbing up a 'hill' or isolating the legs to really target a muscle group slowly.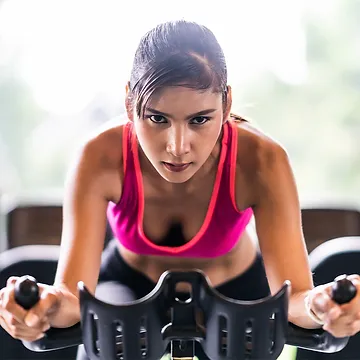 What is a rhythm ride?

A rhythm ride, although still a high-intensity spin workout, focuses on moving to the beat of music. A variety of upper body movements are added and cued by the instructor, such as dips, push-ups, motorcycles, figure-eights and more. This means that you get to do a choreographed, dance-like workout on your bike. Sounds fun, right? It is, but it's also still very challenging!

A rhythm ride also focuses on core spin moves, such as jogs, sprints, and climbs, and also offers an opportunity to notice progress as you revisit movements class after class.


The benefits of both
Both forms of spinning offer similar benefits. Your lower body is engaged tremendously and, unlike cardio exercises such as running, spinning will tone and build stronger leg muscles while simultaneously getting your heart rate up.


Spinning is also great because it is low-impact for your joints, so those recovering from knee, hip, or orthopaedic injuries are safe to build on their recovery. Finally, you also burn lots of calories! Burning this stored energy in the body is one of the most effective ways to lose unwanted fat and get the figure of your dreams.

What's your pick?
Avid spinners usually prefer one style of spin over the other. But it's always good to
switch it up – both the style and instructor! This will keep your workouts varied and interesting which can help you to stay motivated on your fitness journey.
Each instructor also brings their own knowledge and fire to the table, regardless of their style. Head into Vital Cayman today to check out our various spin classes. Get your heart rate up, your sweat dripping, and your endorphins activated!